Product Description
SC Transmission FCL Flange Flexible Coupling 
Product Description
CHARACTERISTICS
FCL Coupling Flange Coupling has simple construction that makes it:
Easy to assemble and disassemble, easy parts replacement.
It is able to transmits power smoothly even under vibration and shock due to its ability to absorb shock and load vibration.
It is also able to transmit power under parallel and angular misalignment, and end-floating.
Smooth running.
Permit reverse revolution.
Full range available from Size 90 to 630
Applications
SC Transmission flange flexible coupling has a wide range of applications: pump, blower, compressor, conveyor, crane & hoist, cement mixer, tractor, rolling mill, metal processing machine, spinning and weaving machinery etc.
 
Product Parameters
SIZE
 
 
D
D1
d1
L
C
n-M
kg
 
r/min
N.m
 
FCL90
4
4000
90
35.5
11
28
3
4-M8
1.7
FCL100
10
4000
100
40
11
35.5
3
4-M10
2.3
FCL112
16
4000
112
45
13
40
3
4-M10
2.8
FCL125
25
4000
125
65
50
13
45
3
4-M12
4
FCL140
50
4000
140
71
63
13
50
3
6-M12
5.4
FCL160
110
4000
160
80
15
56
3
8-M12
8
FCL180
157
3500
180
90
15
63
3
8-M12
10.5
FCL200
245
3200
200
100
21
71
4
8-M20
16.2
FCL224
392
2850
224
112
21
80
4
8-M20
21.3
FCL250
618
2550
250
125
25
90
4
8-M24
31.6
FCL280
980
2300
280
140
34
100
4
8-M24
44
FCL315
1568
2050
315
160
41
112
4
10-M24
57.7
FCL355
2450
1800
355
180
60
125
5
8-M30
89.5
FCL400
3920
1600
400
200
60
125
5
10-M30
113
FCL450
6174
1400
450
224
65
140
5
12-M30
145
FCL560
9800
1150
560
250
85
160
5
14-M30
229
FCL630
15680
1000
630
280
95
180
5
18-M30
296
Company Profile
FAQ
Shipping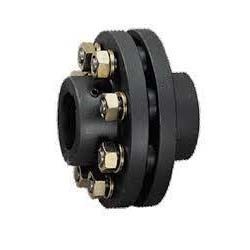 Can Flange Couplings Be Used in Applications with Varying Operating Temperatures?
Yes, flange couplings can be used in applications with varying operating temperatures. However, the selection of the appropriate flange coupling material is essential to ensure reliable performance and longevity under these conditions.
The operating temperature of a flange coupling depends on several factors, including the type of material used, the surrounding environment, and the specific application. Here are some key considerations:
Temperature Rating of Material: Flange couplings are available in various materials, such as steel, stainless steel, aluminum, and different alloys. Each material has its temperature rating, which indicates the maximum temperature the coupling can handle without compromising its mechanical properties. It is crucial to select a flange coupling made from a material that can withstand the highest expected operating temperature in the application.
Thermal Expansion: Temperature variations can cause thermal expansion and contraction of the connected equipment and shafts. Flange couplings must be able to accommodate these changes in length without imposing excessive forces on the machinery. Flexible couplings with certain designs, such as those with elastomeric elements, can better handle thermal expansion and help minimize stress on the system.
Lubrication: Operating at high temperatures may require the use of specialized high-temperature lubricants to ensure smooth operation and reduce friction and wear between the coupling's moving parts. Proper lubrication is essential to prevent premature failure and to maintain the coupling's performance over time.
Environmental Factors: The surrounding environment can also influence the operating temperature of the flange coupling. For example, couplings used in industrial settings may be exposed to hot processes or elevated ambient temperatures. In such cases, the coupling's material and design should be selected to withstand the specific environmental conditions.
It is crucial to consult the manufacturer's guidelines and technical specifications to determine the suitable temperature range for a particular flange coupling model. Additionally, considering the application's operating conditions, including temperature variations, helps in choosing the right flange coupling to ensure reliable and safe performance in a wide range of temperature environments.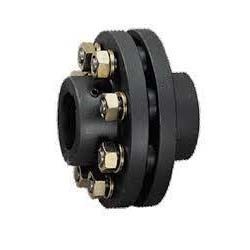 How Does a Flange Coupling Contribute to the Longevity of Connected Equipment?
A flange coupling plays a crucial role in enhancing the longevity of connected equipment by providing several key benefits:
Shock and Vibration Damping: Flange couplings, especially flexible types, are designed to absorb and dampen shock loads and vibrations that may occur during the operation of rotating machinery. By reducing the impact of these forces on the connected equipment, the coupling helps prevent premature wear and fatigue, thus extending the lifespan of the equipment.
Misalignment Compensation: In many industrial applications, shaft misalignment is unavoidable due to various factors like thermal expansion, foundation settling, and equipment repositioning. Flange couplings, especially flexible ones, can accommodate both angular and parallel misalignment, ensuring that the connected equipment operates smoothly even under such conditions. This helps prevent stress on the equipment's bearings and other components, leading to longer service life.
Torsional Vibration Control: Torsional vibrations can occur in rotating machinery, especially when sudden changes in load or speed happen. Flange couplings with proper torsional stiffness and damping characteristics help control these vibrations, reducing the risk of fatigue failure in the connected equipment.
Reduced Wear and Tear: By minimizing shock, vibration, and misalignment-related stresses, a flange coupling helps reduce wear and tear on the connected equipment's components, such as shafts, bearings, and gears. This reduction in wear contributes to the equipment's overall longevity and decreases the frequency of maintenance and replacement.
Protection Against Overloads: Flange couplings can act as a safeguard against unexpected overloads in the system. In cases where the equipment experiences excessive loads or torque spikes, the coupling can provide a level of protection by disengaging or slipping, preventing damage to the machinery.
Optimized Power Transmission: A well-selected and properly installed flange coupling ensures efficient power transmission between the driving and driven shafts. The smooth and reliable transfer of power reduces the risk of power losses, heat buildup, and excessive strain on the connected equipment, which are all factors that could impact its longevity.
Corrosion Resistance: Flange couplings made from corrosion-resistant materials are well-suited for applications in harsh environments, such as those involving moisture or corrosive substances. By protecting against corrosion, these couplings help maintain the integrity and durability of the connected equipment.
In conclusion, a flange coupling's ability to dampen shocks, compensate for misalignment, control vibrations, and optimize power transmission contributes significantly to the longevity and reliable performance of the connected equipment, ultimately leading to reduced downtime and maintenance costs.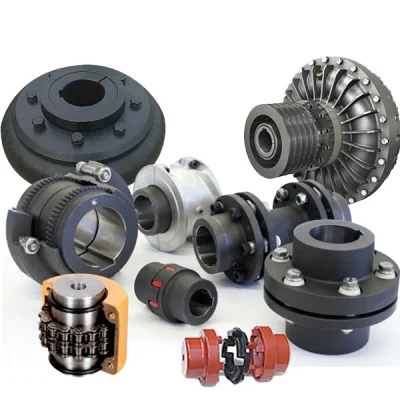 Materials Used in Manufacturing Flange Couplings
Flange couplings are manufactured using various materials, each offering specific properties and advantages. The choice of material depends on factors such as application requirements, environmental conditions, and cost considerations. Here are some commonly used materials in manufacturing flange couplings:
1. Steel: Steel is one of the most common materials for flange couplings. It offers excellent strength, durability, and resistance to wear. Steel couplings are suitable for a wide range of applications and can handle high torque and heavy loads.
2. Stainless Steel: Stainless steel is chosen for its superior corrosion resistance, making it ideal for applications where the coupling is exposed to moisture, chemicals, or aggressive substances. Stainless steel flange couplings are common in industries such as food processing, pharmaceuticals, and marine.
3. Cast Iron: Cast iron couplings are known for their excellent strength and vibration-damping characteristics. They are often used in industrial settings, including pumps, compressors, and conveyor systems.
4. Aluminum: Aluminum couplings are lightweight and suitable for applications where weight is a concern. They are commonly used in industries such as aerospace and automotive.
5. Brass: Brass couplings offer good corrosion resistance and electrical conductivity. They are used in specific applications that require these properties.
6. Bronze: Bronze couplings are valued for their high strength, corrosion resistance, and resistance to wear. They are commonly used in marine and heavy machinery applications.
7. Plastic: Plastic couplings, such as nylon or polyurethane, are used in applications where weight, non-conductivity, and chemical resistance are critical factors.
8. Composite Materials: Some modern flange couplings may use composite materials that combine different properties, such as strength, flexibility, and corrosion resistance.
When selecting the material for a flange coupling, it is essential to consider factors such as load capacity, temperature range, chemical exposure, and the specific demands of the application. Proper material selection ensures that the flange coupling performs optimally and has a long service life in its intended environment.



editor by CX 2023-11-09